What is it?
You may have noticed a new option on your iPhone or recent Android phone that enables Wi-Fi calling over your Wi-Fi network. Meaning, whatever Wi-Fi network or hot-spot you're connected to, whether it be at home, office, or on the go, you can hold a call like a regular one. In recent years Skype, Facebook, and WhatsApp have been able to connect people over the internet without using everyone's minutes. But as carriers offer unlimited plans, it's becoming less of an issue when you're talking for hours in the last days of your pay period.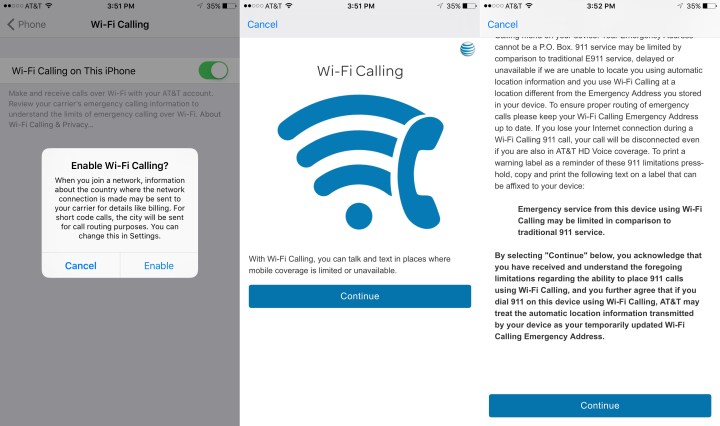 Why would I need it?
Why would you need Wi-Fi calling when I already have service? This will apply to you if there's a dead zone in your house, workplace or even a ranch where there's no service with your cellular signal, but there's plenty of Wi-Fi to go around (which is fairly common in today's world). This isn't the end all be all for voice calls as your mileage will vary only as far as your Wi-Fi reaches.
Can't I just use Skype?
This is different from app-based calling that uses VOIP (voice over internet protocol) as you are able to still use your current phone numbers and contacts. There's also little to set up as opposed to its App counterparts. Wi-Fi calling is also built into most phones with carriers that offer this service. The four major US carriers such as AT&T, Verizon, T-Mobile, and Sprint offer this service for most of their devices to help bolster the service the offer when it becomes weak in residences. This service doesn't usually cost any extra but can come out of your minute balance depending on your plan. It also might have limitations depending on your carrier.
Downfalls

Wi-Fi may be your solution if you're near your router most of the time or if you have an extensive Wi-Fi network where you have minimal dead zones. In other cases, it falls short if your network range is limited, has increased congestion or if increased devices on the network are hogging your bandwidth. If in your home, you start your call over Wi-Fi and continue your call leaving in your car, it will drop as your Wi-Fi signal diminishes. Learn how to you can expand your Wi-Fi coverage and also how CellTeks can help with our other article on Wi-Fi here.
What are my options?
It's a good workaround for when you need to make an important call when your cell signal is weak. But when piggybacking on Wi-Fi, it has its drawbacks. When depending on your Wi-Fi has left you with issues, it would help to broadcast your phones native signal instead. With a Cellphone booster or repeater, you can have widespread coverage and not be dependent on Wi-Fi signal. It would not need permission or added services from your carrier and it would be a standalone system. It could also be expanded to cover your whole home or office to maintain a call when you leave the house where outside signal is picked up.
Through CellTeks, a turn-key solution can be installed the same day and your phone can have the strength to make calls anywhere in your home. Fill out a contact form through CellTeks.com and you will be contacted by a representative that can answer any questions you may have. You can have peace of mind when your system provides the strength to connect to anyone you need to when powered by CellTeks.