When installing state of the art equipment to boost your cellphone signal, the finest testing equipment is needed to get your system to perform its best. When our Teks are on site at a home residence, ranch property, or commercial building, testing through an Anritsu RF spectrum analyzer reveals not just the strongest but the best quality signal for your home or business. Should a cable be damaged either by pests, weather, or another party, our equipment can sweep a line of cable and pinpoint the problem. How do our tests work and how does it affect a system installation for a booster system?
A Brief Overview
When you receive cellular service through Radio Frequency or RF to your home, towers broadcast the raw spectrum that your phone picks up and decodes for your carrier. When this spectrum is broadcasted on this wavelength, The Anritsu can pick it up and display our strength and quality of signal and determine the best direction or directions to point our antennas for your system. Our equipment can also broadcast raw RF through cable lines as well to do various tests on cable and antennas. For more information on the basics of Radio Frequency, check out our article. So how does our equipment work with this frequency?
How Signal is Sourced
During an On-Site Demonstration of our services, before you get to see boosted signal in your home or business, a 360-degree sweep of the outside signal is needed. When our Teks are finished surveying the property itself, that's when the detailed work begins. If feasible, our Teks can scale a roof and safely place a tripod on the highest point of your building and source signal with our state of the art spectrum analyzer.
Capabilities of Anritsu
Spectrum Analyzation: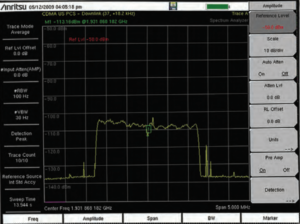 As briefly explained, our equipment can detect the spectrum of a certain band or frequency and give our Teks a visual and numerical graph of the incoming signal. The Anritsu is custom tunable for any frequency range and can read certain bandwidths based on what carrier or carriers our customer is wanting to boost. The Anritsu can be tuned for sensitivity in detecting interference in a congested environment or tuned to detect the weakest signals in rural areas.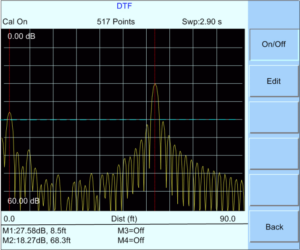 Cable and Antenna Testing:
If issues are seen during or after testing a completed system on a certain antenna, a line sweep can be done to detect punctures, dents or extensive cable bends. This can be done to any length of cable at any frequency and display the fault at the distance detected down to the inch! This makes a big difference in runs that are complex or at high distances, especially in commercial environments.
CellTeks is Prepared
With extensive training done by all of our technicians for the needed certifications, no task is too large to design and service any system. Our equipment paired with our extensive selection of cellular amplifiers equals a product with the best performance just for you. We come prepared with every amp in our arsenal for a possible installation same-day. If interested, Contact Us here. If you have any other questions or concerns check out our Blog Page for more information on the world of cellular communication.